In need of a present for someone? There are many lovely baskets on the internet that may be theirs, regardless of whether they are a coffee connoisseur, chocolate enthusiast, wine sommelier, or a snack lover with a discriminating palate.
 Mind you, these are not your typical gift baskets. They offer the finest artisanal cuisine available. With top-notch contents like gourmet dried fruits, coffee, chocolate, baked goods, and more, they'll impress the person and demonstrate that you went above and beyond.
This is what we discovered after searching through the finest gourmet gift baskets available:
L'ete Collection
Adapts every celebrated element of summer into a divine offering of unbelievable sweets. Love, lore, excitement, and happiness feature in the blissfully crafted L'ete Collection. Whether you are going out for a picnic, giving a gift, or wanting to reward yourself - the L'ete Collection is the perfect accomplice for your summer reveling.
Buy now at: https://laumieregourmet.com/products/lete-collection-rectangle
Superfood Parfait Collection
The Superfood Parfait Collection couldn't have come at a better time. Made from nutritious superfoods, it checks all boxes - supremely healthy, tasty, and luxurious. It is the perfect assortment, bringing together elegant ingredients in unique combinations. Dig in, you can't go wrong.
Buy now at: https://laumieregourmet.com/collections/superfood-parfait
Coffee Set: Oakville Grocery Gift Set
This represents some of the best that California can give, complete with a state-shaped serving board and signature preserves, spreads, crostini, salume, honey, sauces, and nuts.
Buy now at: https://oakvillegrocery.com/shop/with-love-from-california-oakville-grocery-gift-set
Deluxe Exotic and Tropical Fruit Basket
Looking for a fresh, juicy selection of the season's best exotic fruits?
This stunning assortment arranged in a woven basket with cellophane wrapping and colorful ribbon may include (depending on seasonal availability): Asian Pear, Baby Pineapple, Blood Orange, Cherimoya, Feijoas, Kiwis, Kumquats, Lychees, Mango, Papaya, Passion Fruit, Persimmons, Pomegranate, Rambutans, Specialty Bananas, Starfruit, and Tamarillos.
Buy now at: https://www.melissas.com/products/deluxe-exotic-and-tropical-fruit-basket
Birthday In A Box
There can be a lot of pressure to find The Perfect Birthday Gift. Whether you don't know what they want, or the birthday person just has super selective taste, you want to give something that really takes the cake.
Well, any birthday boy or girl is sure to find something to flip for in this festive, curated gift, bursting with rainbow-sprinkled covered bites along with celebratory goodies like celebratory popcorn, extra-fun marshmallows, and our winning double chocolate cookies. Oh, and a few birthday-themed tattoos to get their party started. Tastiest birthday ever.
Buy now at: https://www.mouth.com/products/birthday-in-a-box-gift-set?ref=shop_all_gifts#variant=16849688517
Moose Munch® Premium Popcorn Classic Duo
Moose Munch®  Popcorn is not your average caramel popcorn. Every detail of the recipe went through intense scrutiny, from the type of corn we use to how the caramel coats each popped kernel. It took over 160 attempts to get the original recipe absolutely perfect, and that dedication and effort can be tasted in each sweet and crunchy bite of our gourmet popcorn.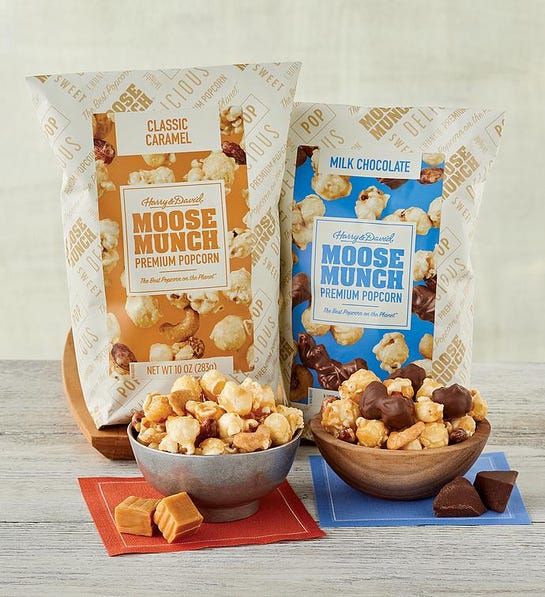 Buy now at: https://www.harryanddavid.com/h/chocolates-sweets-candy/moose-munch-gourmet-popcorn/31459?demandType=XS
Macaron Gift Box
Enjoy Michelin-starred French Chef Daniel Boulud's elegant French macarons. These traditional cookies are made with a crisp, delicate shell (handmade with almond flour for a gluten-free treat), surrounding a luscious, flavored filling.
Buy now at: https://www.goldbelly.com/daniel-boulud-kitchen/macaron-gift-box-12-piece?ref=merchant
Le Cadeau Parfait Collection
The Le Cadeau Parfait Collection is all about luxury and style. This delightful collection is bursting with elegance at every bite, with its high-definition brilliance and craftsmanship. The luxurious burgundy, orange, and green hues make this collection perfect for any special occasion.
Buy now at: https://laumieregourmet.com/collections/le-cadeau-parfait/products/le-cadeau-parfait-rectangle
Italian Treasures Gift Box
From Tuscany to Abruzzi, fifteen regions of Italy are represented in this impressive gift assortment.
Buy now at: https://igourmet.com/products/italian-treasures-gift-box
Award-winning cheese
This collection represents a true 'taste of place' from Vermont featuring three of our favorite cheeses paired with hearty crisps and roasted maple nuts.
Buy now at: https://www.jasperhillfarm.com/products/vermonter
---